Let's Talk Bathrooms
Getting value for money is a top priority when renovating a bathroom. But that doesn't mean skimping on fittings. It's all about being prepared, thinking about your design and investing your money where it really counts.
Start by understanding the reality of your budget, then know where to invest and where to skimp.
All of our products are of high quality. The hardware comes in 3 categories to suit everyone's budget.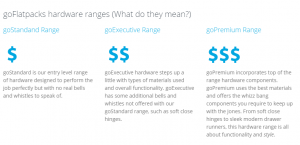 Low-range $4000 to $20,000
If you don't have a large amount of money spent, or your property's value doesn't warrant a big outlay, there are some simple solutions you can adopt, aside from taking up a paintbrush yourself. Believe it or not, going the 'Hamptons' look will save you money. It's all about minimising tiling and featuring painted surfaces on walls. goFlatpacks offers affordable customised cabinets, and are simple to install. We offer Laminex or Polytec which are both quality products. Dress up simple, cheap white tiles such as a classic combo set against a nice warm grey and finished with a vase of beautiful flowers.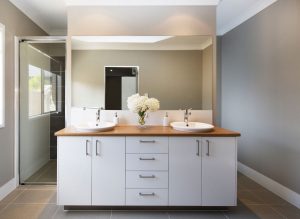 Mid-range $20,001-$40,000s

For this kind of budget, you can achieve great design detail, such as in-wall cisterns and floor-to-ceiling tiling. You can also install underfloor heating, LED lighting, customised cabinetry and create shower recesses that make a statement. Expect to include top-range architectural tapware, freestanding tubs with well-designed form, solid custom-cut benchtops and our goExecutive hardware that adds some additional bells and whistles not offered with our goStandard range, such as soft close hinges.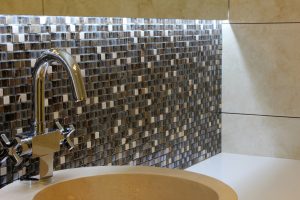 Luxury $40,000+

In this price range, it's all about customised fittings and saying yes to whatever is best for the design. Splash out on artistic elements and make a feature of the tub. High-end materials that can be on your list include whole marble slabs and natural stone (which is more labour-intensive to work with). Also up for selection are glass mosaic tiled floors, wet-lip tubs, double basins, double showers, specialised shower roses and fittings that add sculptural and architectural effects as well as function. Plan wisely and you'll definitely end up something spectacular.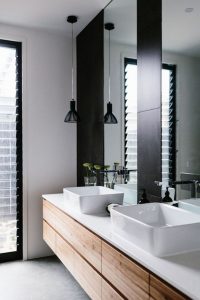 3 BUDGET-FRIENDLY FEATURES THAT MAKE A HUGE DIFFERENCE
Pendant lights: Hanging lights promise to up the ante on style without adding great expense. You don't have to spend much more to get a simple pendant light installed, and it can add a daintier touch.
Mirrors: These can be a gorgeous and inexpensive way to dress up the style factor, especially when you opt for bevelled edges, unique frames or even an antique design you picked up at a garage sale.
Niches: Those little cubbies next to bathtubs, within showers and set into walls are a small extra outlay, but they make a big visual difference.