10 Clever ways to organise your pantry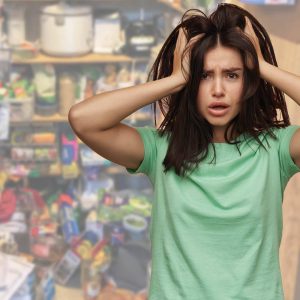 After having spent so much time at home during covid, we really have come to appreciate our kitchens. And whether you have a walk-in or cupboard pantry, the chances are that an organised pantry is (as well as being aesthetically pleasing) going to make your life a little easier. If you open those doors and view a scene akin to your teenager's bedroom after the school holidays, you will close the door and walk (or run while screaming) away. If your pantry is a catchall of unnecessary clutter fear not, we have 10 easy ways to help you to organise your pantry.
1.  Declutter
The first and most important step in organising your pantry is to declutter. Get rid of anything that is out of date. Be strict about this. Rehome items that are still usable and that you don't need anymore. Don't hoard these items, just don't do it!
2.  Zone off areas and use labels
Organise the remaining items in your pantry into different zones. These different areas or shelves can be divided into sections like, baking ingredients, cereals, snacks, spices and condiments. This will allow you find what you are looking for at a glance. Label these zones and your containers to streamline the process even more.
3.  Use storage bins high and low
Take advantage of vertical space by using storage bins on the floor and also on the top shelves. Use storage bins on wheels on the floor to store loose items that are kid friendly like toilet paper or reusable shopping bags. Store the items that you use less often up top, like Christmas decorations and specialty food stuffs.
4.  Use a chalk or white board door
Use a chalk or white board on the inside of your pantry or cabinet door. This is a great place to write reminders and shopping lists. If your door closes flush to the shelving, you can paint the inside of the door with chalkboard paint. Another option is fitting the inside of the cabinet door with a corkboard. This is a handy place to hang notes and other small items.
5.  Use door storage
Maximise the space in a smaller pantry by creating a double pantry doors. There are various ways to do this. You can use a store bought over-the-door wire organizer with multiple compartments or you can install a door storage system. Before purchasing either, be sure to measure how much depth you have between the door and the shelving when the door is closed. This can be done by closing one door and measuring the depth via the open door.
6.  Bi-fold or sliding cabinet doors
If you're working with a smaller space, installing sliding or bi-fold cabinet doors will reduce the amount of space that open doors take up. This can be particularly helpful for a cupboard pantry in a small kitchen.
7.  Install pull-out drawers
Deep shelves are notorious for being clutter traps. Avoid this by installing pull out shelves which allow you to access the back area of deep shelves. Not only is this a far easier way to access items on the shelf but it is also much easier to clean.
8.  Use a built-in vertical pantry and rubbish bin
Steal back space by using vertical pantry and rubbish bin cabinets that fit under your counter-top.  A vertical pantry cabinet is ideal for storing taller bottles, like bottles of oil, vinegar and other condiments. This style of cabinet also makes it very easy to access the bottles while utilising very inch of space. By installing a rubbish bin cabinet, you instantly neaten up your kitchen area. Using a two-compartment rubbish bin inner, makes it much easier for everyone to separate rubbish from recycling.
9.  Ensure there is enough lighting
Make sure you have enough lighting in the pantry. Consider putting lights at every shelf level. There are various options of LED lights that you can use which don't require wiring and use a normal AA battery as a power source. Alternatively, you can tile the back of the and floor of the pantry with a reflective white tile. This maximises the amount of light that is already there.
10.  Use a combination of shelving and drawers
Use a combination of open and closed shelving and drawers when planning your pantry. Shallow drawers work well for smaller items link to inner drawers on website but you will also need some taller shelving to store those jumbo boxes of cereal that were on special. Plan where you want to store appliances and your larger containers. Before you commit to ordering any cabinetry, make sure you measure everything accurately (including your appliances)!
In closing…
While we can't guarantee that your pantry will remain tidy and organised, we are certain that even if you follow only some of these steps you will you'll see a drastic improvement in your pantry. We realise how important your pantry is, it stores the fuel for the people in your home. It's a popular place!
That's why we are so excited for you to check out what we offer at goFlatpacks. This is where you can order the pantry cabinetry that best suits you. We offer a range of drawers and space-saving options like vertical (or oil) cabinets, rubbish bin cabinets and inner drawers.
Our website is loaded with great tutorials, ideas and planning tips. Become a member and get real-time quotes on your order. Become a member today!