The Evolution Of The Open Plan Design Kitchen
The evolution of the kitchen is a fascinating subject. It was once a place used only by cooking staff (if you were wealthy enough), or used by house wives who slaved over the family's daily meals and then have to tirelessly clean up after them.
Thankfully today's kitchen has evolved to become the social hub of the home where friends and all family members come together to cook, to drink, to chat and even carry out other daily tasks such as catching up on personal admin, or flipping through a favourite mag with a cup of coffee.
It doesn't matter how fancy one's formal living or formal dining spaces are, when friends or family visit everyone seems to gravitate to the kitchen. So, what has inspired this shift from the couch to the cook top?
To find out, we spoke to Daniel Moore, Manager of a Bathroom retail store. In Queensland. Daniel kindly shared his expert insights into the evolution of the humble kitchen and talked to us about the trends that are now at the forefront of kitchen design. Here's what Daniel shared with us.
How are modern kitchen's being utilised these days and what has influenced the way people interact most within the space?
"Children and teenagers are spending a lot more time in the kitchen drawing, painting or finishing up homework. They are even excited to help out with preparing food which is great as cooking is an essential life skill that helps kids to develop their creativity and motor skills."
"Modern technology, access to a smorgasbord of food varieties and the popularity of cooking shows has taken cooking from being a repetitive chore to an opportunity to get creative. Along with the popularity of social media channels such as Instagram or Facebook one can now showcase and share their cooking creations".
"Of course it is the actual physical evolution of kitchen design itself that has impacted most on the way we interact with the space and each other. Once a closed off room at the rear of the house, the kitchen is now proudly positioned centrally at the heart of the home," says Daniel.
How has kitchen design evolved in recent years?
"Influences from glossy magazines saw kitchens develop into luxurious, uber fancy, show kitchens – all about state-of-the-art appliances, sculptural range-hoods and finishes that exemplified vast amounts gloss, sparkle and shine. However, the 'show' kitchen has now evolved into the 'social' kitchen which conveys a much more relaxed and welcoming appearance," Daniel explains.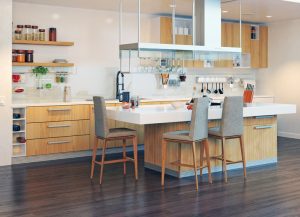 How would you describe today's style of kitchen?
"Today's contemporary kitchen now reflects a more casual, laid-back aesthetic that looks effortlessly chic. With the influence of styles such as Scandinavian, Hampton's and Industrial, kitchens have taken on a much more raw and natural appearance".
"In saying this however, given the kitchen has become centralised to the other main living areas, it is still very much a place to create focal points and add statement pieces. 'Wow' accents are still being incorporated but in a much more restrained and elegant way than in the past."
"Kitchens have also become light, airy, open-plan spaces that are acknowledged for their clever use of space, ample natural light, multi-functional use and customised hand-made furniture. Materials are natural or earthy and colour palettes are more neutral and muted but are being teamed with luxe accents of metallic finishes such as brass, copper, bronze or matte black".
"Sightlines are left open without visual obstructions which allows spaces to borrow from each other. Many new kitchens encompass a dining table integrated into the bench top that can double as a home-office work space. It's this kind of versatile design flexibility that encourages a great deal more social interaction within the home".
"Many households have embraced a causal lifestyle and as such, the kitchens of today are fast becoming shared family spaces that also permit dining and lounging within the same area. This concept allows the whole family to spend time together whether the task at hand be cooking, working, relaxing or socialising," says Daniel.
https://www.houseofhome.com.au/blog/the-social-kitchen