Bathroom Colour Schemes 2017
In 2017 we'll see that more people are opting for natural, organic looking finishes, gravitating to a day spa feel. There's a shift away from chrome and porcelain, into natural stone and timber.
However, the the trend for luxe looking mixed metals will continue into 2017. People are becoming more drawn to matte, brushed or burnished finishes for tapware and bathroom fixtures. Split finishes combining matte black with rose gold or brass are also set to become hugely popular.
After years of predominantly bright white bathrooms, both interior designers and homemakers are ready for a dramatic change and have (or are becoming) more confident with introducing darker finishes to a space. Bathroom colour palettes going to become more opulent and dynamic. Schemes will take on darker, richer, warmer, and more moody tones but the overall result will exude elegance.
Homemakers can expect deep grey, charcoal, navy and black hues in the form of tiles or feature walls. These colours will be highlighted by pops of brass, rose-gold or bronze fittings which make a grand luxurious statement. A balanced, calming and tranquil aesthetic can be created by teaming these finishes back with a light coloured timber such as oak, or a raw finish such as concrete.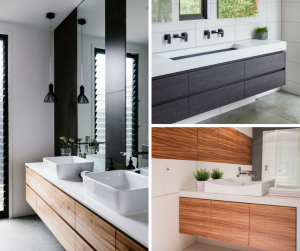 bunnings bunnings kitchens custom bunnings kitchens  kaboodle kitchens diy custom kitchens kaboodle flat packs ikea ikea kitchens ikea cabinetry ikea custom cabinetry ikea flat packs
Please note, goFlatpacks does not own the copyright to any of these images, we are just happy to spread the great variety of creativity we see within these cabinet designs. https://www.houseofhome.com.au/blog/bathroom-trends-2017