Designing Your Wardrobe For Functionality & Style
Wardrobe design is often the forgotten part of a bedroom suite. Can you can relate to having a simple built-in robe, the type where you quickly half throw/half hang your clothing behind the doors and shut them with the hope of one day having a more practical use of space?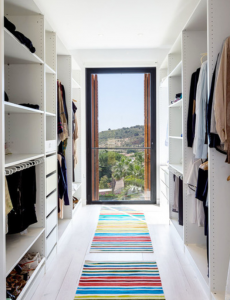 Perhaps you even use your current wardrobe as a way to conceal any potential clutter or mess that may enter the room. But why neglect your wardrobe when designing the space can offer so much to the finish of a room and may even help you get out of the door a little faster if it is well organised. There is nothing more rewarding than having a robe that is organised beautifully.
When it comes to designing a wardrobe there's a lot to consider, from space planning and functionality to aesthetics and ergonomics. You'll need to consider lighting, where to position the mirror, whether you would like white carcass drawer fronts or coloured ones, space for shoes, the ratio of hanging space to drawers and shelving and so on.
The key to a great designed robe is to plan how you want it to function. Perhaps note how you currently use your robe – are you always wearing similar garments, like a uniform, or do you always seem to be scrambling to find a scarf that will perfectly finish your outfit? By understanding what currently works in your robe and what needs to be improved, you can determine what design features will make your robe more functional. You may want a shallow drawer especially for jewellery, scarves or ties to find them easier or somewhere to put shoes.