Kitchen Conundrum: Upper Cabinets, Open Shelves or Space?
Standard upper cabinets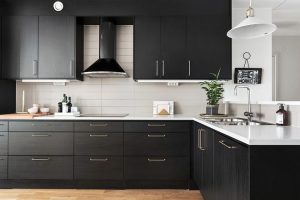 Pros: Standard upper cabinets with doors offer plenty of storage with a clean and composed look. Cabinet styles and hardware such as pulls and knobs can conform to minimal or traditional tastes, making this a good option when going for a specific, cohesive look in a kitchen. If your life is busy, upper cabinets conceal clutter and disorganised dishes that you may not have time to straighten up. This kitchen maintains a clean and tidy look no doubt thanks to the many upper cabinets that help keep things tucked away and off the benchtops.

Cons: The main con of using upper cabinets is that they simply take up space, which can make a kitchen feel smaller, darker and more cramped. Cabinets, especially ones that go up to the ceiling, are also generally more expensive than shelves or wall finishes. Plus, cabinets (especially those you didn't choose yourself) can express less of your personality than other options.
Open shelves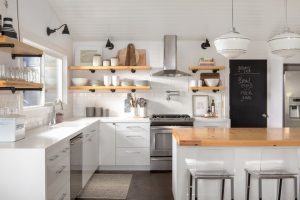 Pros: Replacing the upper cabinets with open shelving has become a popular trend in recent years. This approach helps a room feel a little more open while still providing storage for everyday essentials. Placing frequently used items like plates, glasses and basic cookware on shelves keeps them in easy reach and creates a shop-like display that tells a personal story. Here, clear jars, ornamental bottles and curvaceous pots lend colour and shape to the small space.

Cons: The issue with shelf uppers for some people is that the look is much busier, especially for those who have many items to stuff on shelves or who lack the confidence to style open shelving. Unattractive products may have nowhere else to go, and not everyone wants to feel as though they live in a grocery store aisle – or do the extra dusting required.
Tip: Before you tear down upper cabinets, try removing the doors to see how you feel about living with open shelves. You may even decide to keep it just like that.
No upper cabinets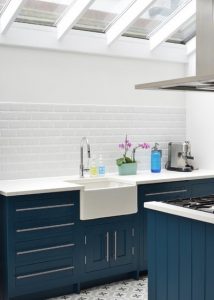 Pros: An even newer trend is to skip upper shelves and upper cabinets. This lets you reclaim visual space and create more elbow room. The result is a much larger- and airier-feeling kitchen, with room to hang art, install more beautiful tiles or lighting, or simply enjoy a clean slate. The roof line in this kitchen prevents upper cabinetry, but imagine how cramped this space might look with a bank of uppers. It definitely wouldn't have the bright, open, luxurious air that it does now.
Cons: The obvious con of skipping the uppers is the lack of extra storage. For serious chefs, lower cabinets may not be enough, especially without a pantry. For more casual cooks, this may simply promote eliminating clutter.
A single shelf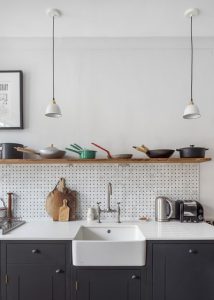 Use one floating shelf to store essentials while still keeping a breezy feel. Plus, a single shelf works great for capping a splashback. A single shelf hung higher keeps items out of your sightline and offers a functional place to install LED or other under mount lighting, or a discreet spot to hide an outlet for plug-in appliances.
Frosted glass doors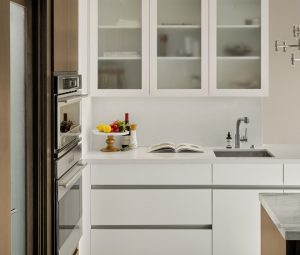 This option provides a slightly more open appearance than standard upper cabinets, which works great for mixing up your kitchen look without giving up storage. You may even be able to attach new frosted glass doors to existing cabinets instead of springing for all-new units.
Floating uppers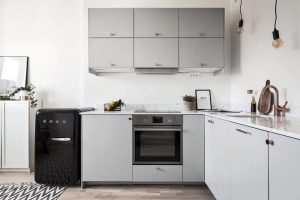 There's no rule that says uppers have to span from wall to wall. A set of uppers floating over the bench will cost less (because you can skip the fillers) and create a modern look that feels less stuffy and still provides lots of storage.
High uppers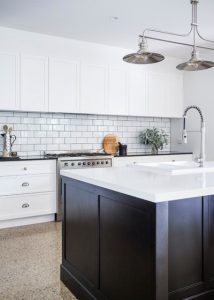 The standard placement for upper cabinets has long been between 45 and 60 centimetres above the benchtop. Modern installations now often hang them higher, to give the work surface below more of an open feel. This reduces the amount of cabinet space within easy reach, but still allows for plenty of storage for less commonly used items.
Shallow uppers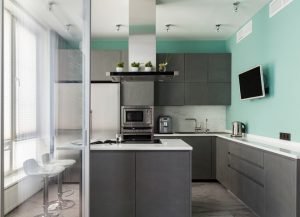 Another way to compromise between open space and closed cabinets is to use slimmer uppers that don't project as far from the wall.
Standard cabinets are usually 30 centimetres deep, but the need to store bulky appliances has raised that depth to 40 centimetres on many cabinet lines. Returning to a 30-centimetre depth or choosing even shallower cabinets gives you ample space to store cans and spices, with those bread makers and slow cookers getting stashed down below or somewhere else.
Mix and match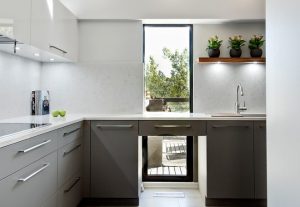 Of course, you don't have to stick to just one school of thought. The best approach is usually a personalised one. This kitchen, for example, mixes high uppers, an artful single shelf and open space to balance storage, decoration and a breath of fresh air.
Create your DIY cabinetry flatpack with goFlatpacks today!
Ref: https://www.houzz.com.au/ideabooks/76137152/list/kitchen-conundrum-upper-cabinets-open-shelves-or-space