Walk-in Wardrobe Measurement Guide
Walk-in Wardrobe Measurement Guide:
Take a look at some essential wardrobe measurements, along with some other considerations to ensure your robe will work for everyday use!
goFlatpacks advise clients to take into account some standard measurements and the mix of shelving, drawers and hanging space. So, where to start? The following guide will certainly help you plan and commission your design.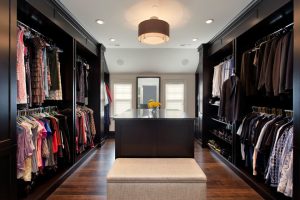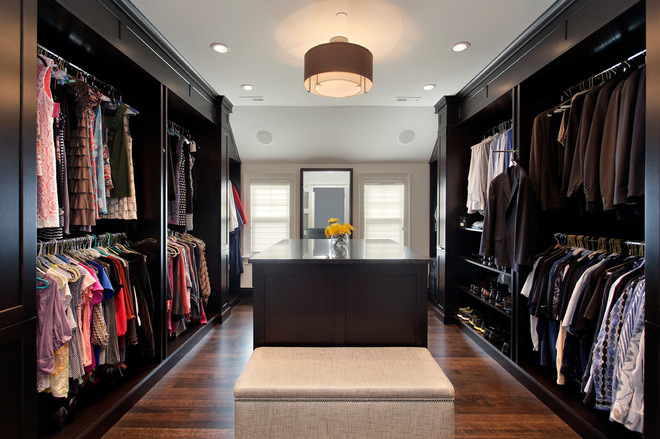 Depth of wardrobe
The depth of a wardrobe varies but it is commonly about 600-650mm , including doors. This allows enough room for clothes on hangers, including bulky coats, to fit comfortably inside. If you choose to have doors on your wardrobe, consider whether hinged or sliding doors are better suited and if you have room for either.
Hanging space
Dresses and long coats need long hanging space, while shirts, skirts and trousers need shorter hanging space. A good starting point is to allow a height of 940mm for short hanging space and 1880mm for long. The proportion of how much 'long' vs 'short' space needed will vary, but a minimum of a quarter of all hanging space devoted to long clothing is a good start. And don't forget some things are best kept folded and not hung, such as woollen jumpers. This helps cut down on the amount of hanging space needed.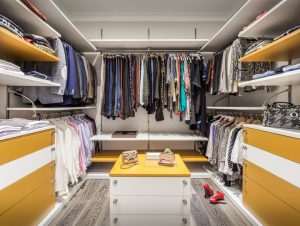 Drawers and shelves
A bank of drawers is often built to an overall height of 800 mm, which allows for three drawers at 250 mm high each and a kickboard of 50 mm , with a depth of 450 mm. Of course, with custom joinery you can tweak these measurements to suit your storage needs. Shelving is commonly 450 mm deep and often includes pegs to allow you to adjust the height of the shelf.
Tip: Try to keep some consistency of lines throughout the space. This ensures the space is visually pleasing – the repetition of alternate yellow drawer fronts and shelving is a good example of how to achieve this.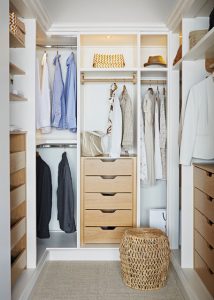 Storage up top
Try to maximise all the space you have by adding storage up to the ceiling. Use higher shelving and pigeon holes to store off-season clothing, travelling items or spare linen. If your ceilings are 2500 mm high or more, this can literally mean an extra cubic metre of storage space..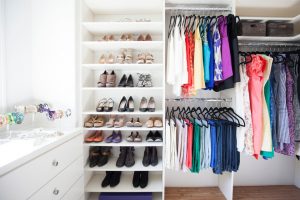 Shoe shelving
When constructing shelving for shoes, a good starting point is to allow a 220-260 mm height for heels and flats, and the same for most men's shoes; roughly double that for boots. Keep in mind that you'll need to allow for even more space if you have boots that don't have pliant shafts.
If you're going to incorporate pigeon holes for individual pairs, you'll need 220-300 mm in width (depending on shoe size), a depth of at least 350 mm for women's shoes and a tad more for men.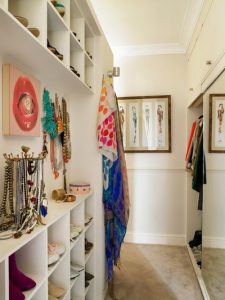 Accessories
Having a place for everything (and keeping everything in its place) helps you to keep on top of what you have, making planning what to wear each day easier. Allow space for being able to store and style your favourite pieces beautifully. A series of smaller pigeon holes for ties or belts is a neat way of storing and displaying otherwise tricky items. Also consider leaving an open bench space for displaying or keeping awkward items, such as hats or unusual jewellery.
x
x
Create your DIY cabinetry flatpack with goFlatpacks today!

 x
x
x
x
x
https://www.houzz.com.au/ideabooks/74725564/list/an-insiders-guide-to-walk-in-wardrobe-measurements