Wake Up to 9 Smart Over-Bed Storage Ideas
Want to double your bedroom storage? These clever and creative ideas will make you rethink the space above your bed.
Storage units fitted above the bed were a popular trend back in the 1970s and '80s and, although they were great for making the most of unused wall space, these cupboards never looked particularly appealing. In fact, they often made bedrooms feel darker and more enclosed. But before you declare your distaste for the old-school 'bed bridge', take a look at these modern updates that offer more creative and appealing alternatives to the dated designs of the past.
Contemporary Bedroom by Ensoul Ltd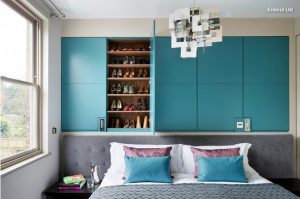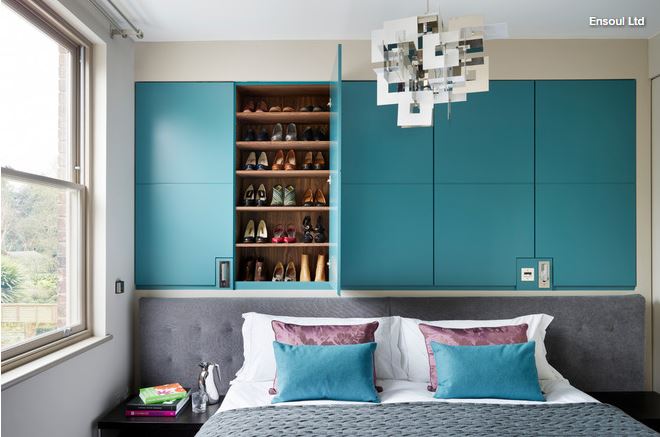 Contemporary Bedroom by Ensoul Ltd

1. Shoes, glorious shoes!
Didn't think over-bed storage could be innovative and contemporary? Well, these stylish shoe cupboards behind the bed break all the rules. The bespoke cupboards are recessed into the wall so they don't encroach on head room or light, while their vibrant colour adds a modern statement. Just beware of the doors when they are open…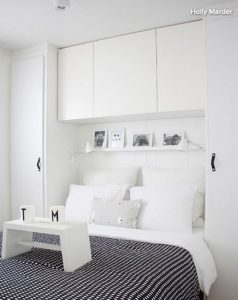 Scandinavian Bedroom by Holly Marder
2. Keep it bright
Old-fashioned 'bed-bridges' of the '80s often made a bedroom feel busy and cluttered thanks to their dated designs and overt detailing. To avoid the room feeling closed in, stick to simple, white cupboards with clean lines and you'll create a barely-there feel. Pop a darker throw on the bed for contrast and the cupboards will fade even further into the background. Tip: Choose handleless cupboards that push open for an even slicker look.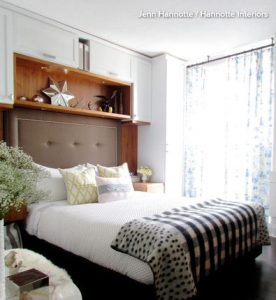 Contemporary Bedroom by Jenn Hannotte / Hannotte Interiors
3. Design your own combination of units
Alternatively, you might want to draw attention to the cupboards and create a feature around your bed. Incorporating an open shelf into the design can provide a great spot for displaying personal pieces and bringing interest to a room. In this scheme, tall, slim cupboards make brilliant use of the space on either side of the bed, while a small bedside shelf also provides a handy spot for bedtime essentials.
Tip: By designing your own bespoke bed bridge, rather than buying off-the-shelf units, you can incorporate the exact cupboards for all your storage needs.
—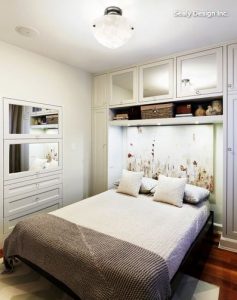 Contemporary Bedroom by Sealy Design Inc.

4. Use mirrors for effect
You might think that adding mirrors to the front of high wall units seems a little pointless. In fact, it's a clever visual trick to help the room feel larger by reflecting the light and ceiling space. This is a super solution if you are concerned that the units might make your bedroom feel too enclosed.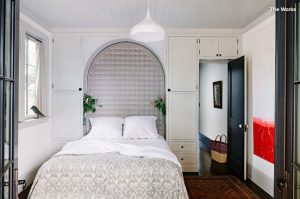 Craftsman Bedroom by The Works
5. Make an impact
Worried that a row of units above the bed may feel a little sterile and kitchen-like? Then what about incorporating a striking arch and a glamorous padded bedhead for an injection of style? You could also include sneaky cubby holes on either side of the bedhead for easy-to-reach bedtime storage. Clever ideas all round.
Similarly, the units in this guest room also include a recessed area for handy reading lights, and when the guest bed is folded away into the wall, the recessed cubby holes are neatly concealed for a streamlined finish. The warm, timber-clad cupboards have a distinctive retro vibe, but they remain fresh and contemporary thanks to the pale flooring and modern cane chair.
—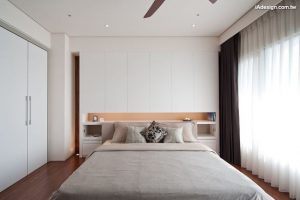 Contemporary Bedroom by Laura Stephens Interiors
6. Consider nifty lighting
Kitchen upper cabinets are often fitted with down lights to brighten up workbenches, and similarly, over-bed units can be fitted with downlights to brighten up the bed. Not only is this great for reading, it provides atmospheric evening light if you don't have space for freestanding lamps.
—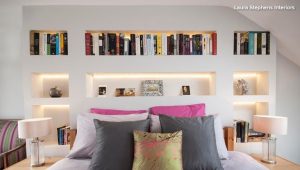 Contemporary Kids by Turner Pocock
7. Make a statement with open shelves
Recessed shelves built into the wall behind the bed will provide plenty of storage space for books as well as special treasures. Incorporate some clever lighting and the shelves will make a stunning focal point.
—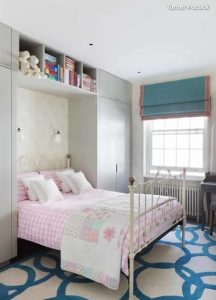 By Tuner Pocock
8. A winner in narrow rooms
When there's no room for cupboards or wardrobes on the wall opposite the bed, the solution is often to place all the furniture along one wall. But rather than having individual freestanding pieces, opt for a built-in design so the bedroom has unity and cohesion. Here, two large wardrobes sit on either side of the bed and are connected by a bridge of open shelving, creating a harmonious look that's neat and streamlined.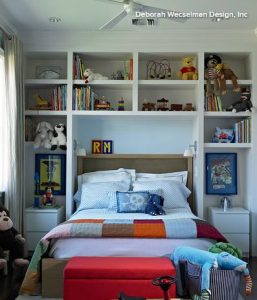 Transitional Kids by Deborah Wecselman Design, Inc
9. Turn it into useful cubby shelf storage
Over-bed storage doesn't have to mean closed units, it can be open shelves too. Cubby shelf storage is an ideal solution in kids' rooms that need some clutter-control, and if you don't like the busy look, pop baskets into the cubbies for a neat finish. All of these images have been sourced from www.houzz.com.au.
Please note, goFlatpacks does not own the copyright to any of these images, we are just happy to spread the great variety of creativity we see within these cabinet designs. https://www.houzz.com.au/ideabooks/82096160/list/wake-up-to-9-smart-over-bed-storage-ideas