Wash, Dry, Fold & Put Away
Wash, Dry, Fold & Put Away… Yes, we are talking about laundries.
They are one of those spaces that can make or break a house design. Lovely kitchen, beautiful bathroom, gorgeous living areas … cramped, non-functional laundry. Sure, it's prosaic, but since you spend enough time there, why not make it special?
As these laundries show, it's possible to make your laundry functional and good-looking. You'll be chewing through that pile of washing in no time.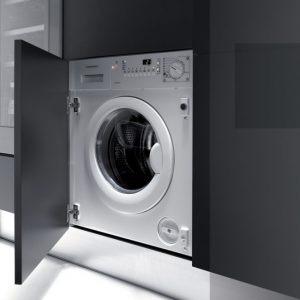 Hide it away 
You can make laundries beautiful, regardless of the size. But having a front-loading washing machine and a condenser dryer that doesn't need venting is helpful. These appliances fit into narrow, tight spaces under benches and in cupboards, plus they stack on top of each other and generally behave well if you do
Brighten it up
Hello Yellow! The gorgeous Olympia Yellow by Laminex contrasting white benchtop fits the gently mid-century vibe of the rest of the renovation (ply, timber, pastels), but creates its own sense of fun by brightening up space. Note the practical high laminate splashback – an excellent choice in a place where there's a lot of water splashing about.
Dramatic
Birch surrounds the hand basin on one side and dark open shelving gives it the dramatic feel whilst hiding the appliances, still being user friendly and providing enough bench & storage space.
Tight space
Just because laundry is small doesn't mean it has to be disfunctional. The washer and dryer in this cupboard laundry sit inside the cupboard, raised off the ground for ease of access and below a detailed timber shelf for folding clothes.
Cupboard usability
Making the most of cabinetry is essential for laundries. This laundry offers a clothes rack, ironing board space to be hidden away and shelves. Not all of us have a front loader and we think the space for this top-loading is perfect and could fit a dryer above should this client need it.